Cooper Graphic Design
Date: 01/08/2010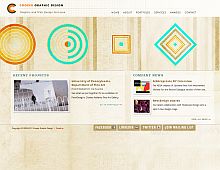 Rate It:
Color Scheme
Hovered color:
Selected color:
Comments (3)
Great designs thanks
#1:
Saba
on 01/26 at 03:40 PM
I like the sample works on showcased in this design firm! Beautiful works! Perfect art essays for digital art enthusiasts like me! I'll be browsin' around the site for more samples.
I like the design. it is simple but not plain with easy navigation. nice job
(Total Pages: 1)