Concept 64
Date: 05/09/2006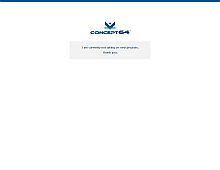 Just a simple yet attractive design. A few elegant touches is all that's needed to transform an otherwise plain looking design.
Rate It:
Color Scheme
Hovered color:
Selected color:
Comments (3)
Thanks for posting our site on your gallery! We worked hard to give it a very simple, clear, yet universal ly attractive design. It's often enticing to want to add more rather than keep it simple.

Antoine de Saint Exupery, the French aviator, said it best: "In anything at all, perfection is finally attained not when there is no longer anything to add, but when there is no longer anything to take away, when a body has been stripped down to its nakedness."

Thanks again! :-)
Something really should be said about that navigation... when the window shrinks or the resolution is lower the navigation entirely changes style so as to best utilise the space. Ive seen this method practiced before but I dont think ever quite to this level of quality. Amazing.
(Total Pages: 1)
Commenting is not available in this weblog entry.