Comtemporary Multimedia
Date: 06/04/2008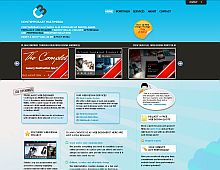 Rate It:
Color Scheme
Hovered color:
Selected color:
Comments (5)
very confusing nav. Some stuff is there, then it is gone, then it is back. annoying.
Wow... doesn't work very well in Safari. Nav is confusing... and please please please remove the red option... it hurt my eyes.
#2:

Steve Labowski

on 06/04 at 03:34 PM
very original, love it!
#3:

Robert

on 06/04 at 03:41 PM
Some serious issues in Firefox Mac and Safari. Changing the color scheme is a nice idea, but it would be better if you had ones that were high contrast and not red & green, since a common form of color blindness is red-green color blind. Beyond that, the tabs in the red and green schemes make the text almost unreadable.
#4:

Amy

on 06/04 at 05:18 PM
also fucked in Opera, PC.

Problems with mootools?
#5:

Another guy

on 06/05 at 01:37 PM
(Total Pages: 1)
Commenting is not available in this weblog entry.