Color Schemer
Date: 09/21/2005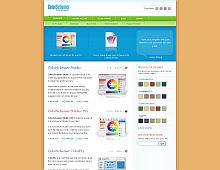 A very nice mix of colors. The pop up tabs at the top are also interesting.
Rate It:
Color Scheme
Hovered color:
Selected color:
Comments (2)
just demo
#1:
dinesh
on 10/05 at 10:07 AM
I use the color schemer windows tool and i can say that this site design is really a "reference" in itself!
(Total Pages: 1)
Commenting is not available in this weblog entry.