Cod & The Dandy
Date: 10/15/2008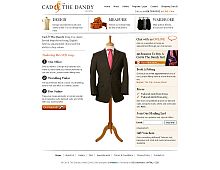 Rate It:
Color Scheme
Hovered color:
Selected color:
Comments (7)
Simple and gorgeous, I love it!
Goes well with the product too, which is very important.
#1:

Gunnar Bruun

on 10/15 at 10:16 AM
Now i am thinking whether I need a new suit.... really fun website and want more excuses to play around on it....
#2:

markontheprowl

on 10/15 at 10:28 AM
Great interface for designing your suit! Loads of fun.
Just ordered a suit cant wait to see what it looks like.....as good as the site i hope.....
#4:

Josh Harkness

on 10/15 at 05:47 PM
Amazing website. Understand the suits are well cut and stylish so ordering one for my boyfriend
#5:

Jules

on 10/15 at 08:51 PM
A mate at work ordered a suit from these guys and loved it. If their suits are as good as their website then I can see why! I might just go and book myself a fitting with them...
Whoops just order one.... Cad and the dandy .... please make my suit super good! :)
#7:

markontheprowl

on 10/16 at 12:09 PM
(Total Pages: 1)
Commenting is not available in this weblog entry.