Chris Burrows
Date: 04/29/2008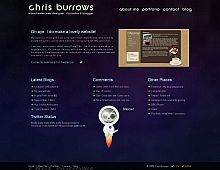 Rate It:
Color Scheme
Hovered color:
Selected color:
Comments (3)
Hey mate, this site is very nice and clean. beautiful background. 9/10, only thing that seems a little weird to me is the vector girls face, just doesn't seem right.

good work
Good work but 6.5/10. It's not revolutionary and the vector girl looks a bit off. But great use of colour and a solid dark design.
#3:

PKayne

on 05/06 at 01:57 AM
(Total Pages: 1)
Commenting is not available in this weblog entry.