Chernobyl Strawberries
Date: 09/15/2005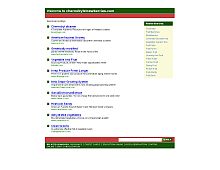 A nice design based on shades of blue. Easy on the eyes.
Rate It:
Color Scheme
Hovered color:
Selected color:
Comments (8)
What's wrong? My first comments are never accepted whether I submit immediately or preview first.
#1:
Peter
on 09/15 at 10:55 AM
Hi Peter:
What browser are you using? In FF I can't duplicate the problem.
#2:
admin
on 09/15 at 11:40 AM
Opera 8
#3:
Peter
on 09/15 at 01:23 PM
Back on topic: another quality design from eton digital. The graphics, fonts top left immediately catch the eye while the rest of the page adds and complements to this.
#4:
Peter
on 09/15 at 03:47 PM
I've discovered that if I comment on the form, then go online and post, then it doesn't get through. But if I am already online, with a fresh page, then the comment gets through.
#5:
Peter
on 09/15 at 03:51 PM
Re my last comment, this doesn't happen with other web sites I visit, so it must be fixable. I hope that helps and you then can delete all these non-design comments!
#6:
Peter
on 09/15 at 03:54 PM
Wow...i believe this is perhaps the best design i've seen this month. It's simply perfect for a personal blog. The blueish colors are very attractive. Well done! :)
I vote that a 7, really well done
(Total Pages: 1)