Charles Martin Books
Date: 05/08/2005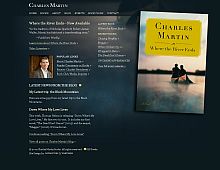 Some designs look more like print brochures than web sites. I like this design for that attribute, which is appropriate considering the nature of the site.
Rate It:
Color Scheme
Hovered color:
Selected color:
Comments (1)
This is a very nice design. I like it as well. But however, it does not validate HTML 4.01.
#1:
Matt
on 05/08 at 09:48 PM
(Total Pages: 1)
Commenting is not available in this weblog entry.