C & M Construction
Date: 12/03/2008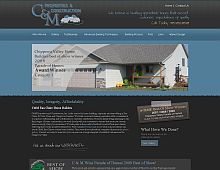 Rate It:
Color Scheme
Hovered color:
Selected color:
Comments (2)
The site design looks good, but the Logo is pretty fugly. The crappy drop shadow isn't helping much either. IMHO.
I think they were trying to give the logo a 3d or extruded effect..."failure"...
#2:

aguy

on 12/03 at 10:30 PM
(Total Pages: 1)
Commenting is not available in this weblog entry.