By Land, Sea, or Air
Date: 04/20/2010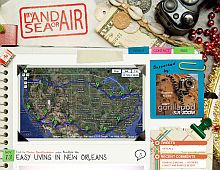 Rate It:
Color Scheme
Hovered color:
Selected color:
Comments (31)
Its very cool
#1:
Yudh
on 04/20 at 06:17 AM
This site loaded up slowly for me (in firefox), but after it completed I liked what I saw. The design and the photos are great.
The site loaded up slow for me too, maybe you could try using jpg images and put the quality at like 8 or 9 in photoshop.
as for me site load speed is pretty good
wow. It's all very beautiful.
#5:
ris
on 04/21 at 03:01 AM
Fantastic color scheme. Photos are also looking so awesome.
Informative post!!!!
Where is News
#6:
saina
on 04/21 at 06:22 AM
wow. It's all very beautiful.
buy sony vaio
regards
#7:

Guillermo

on 04/21 at 05:11 PM
Nice homepage... Super cool :)
@Door Hangers: Come on, everything loads slowly in Firefox.
#10:

Julio Sepia

on 04/22 at 08:01 PM