Buffalo Web Design
Date: 09/12/2008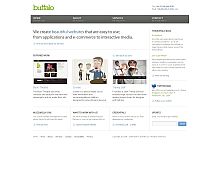 Rate It:
Color Scheme
Hovered color:
Selected color:
Comments (4)
Absolutely awesome! White works! Love the layout.
Sophisticated and stylish; shows great design can be simple!
#2:

Mike

on 09/14 at 11:39 AM
If your skills are not enough for that, you definitely need a professional web building service assist you at reasonable price. This is the reason why we recommend you these 2 websites, dealing with entirely developed websites, with already installed scripts. There you can find different types of websites: established, dropship, Amazon affiliate, eBay affiliate and other websites and web services. One more reason to visit these sites is the fact that you won't get misled and you will receive your website within 24 hours together with an e-mail containing all the info you need. You will receive entirely developed product at the best price on the market, and don't forget that web optimization, quality hosting service as well as the 24/7 online support also matter.
#3:
Peter
on 09/21 at 10:59 AM
I love that design! I always thought white was too dull for a website design, but from your awesome templates, I can see that white is actually very professional!
(Total Pages: 1)
Commenting is not available in this weblog entry.