Broken Kode
Date: 09/08/2005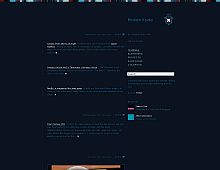 I love this design. Spacious yet non-bland at the same time.
Rate It:
Color Scheme
Hovered color:
Selected color:
Comments (3)
Nice one. Looks kinda like joshuaink.com but with a slight twist :)
#1:
Miha
on 09/11 at 04:45 PM
Wow, what a great illustration. This is a great example of how backgound images can be more than tiles or stripes. And a style sheet with a table of contents!
#2:
Trevor
on 09/15 at 11:38 PM
Give Me Toys =)
#3:

Glen Walker

on 09/27 at 04:36 AM
(Total Pages: 1)
Commenting is not available in this weblog entry.