Brizk Design
Date: 04/13/2010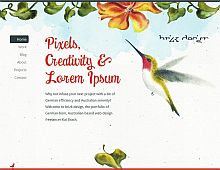 Rate It:
Color Scheme
Hovered color:
Selected color:
Comments (13)
Nice web design. Looks much better in "real" than on the screenshot.
I like Brizk website. It looks like very clean and simple design.

güzel sözler
Love hummingbirds =)
#6:
povar
on 04/22 at 01:52 AM
Love the design and the pics are good too. Thanks
Article buddy
#7:
david
on 04/22 at 07:33 AM
saolasınız.
#8:
seks
on 04/24 at 09:37 AM
I love the humming bird in this design. Your design almost resembles a painting. I really like it! Good use of CSS..