Branded07
Date: 09/16/2008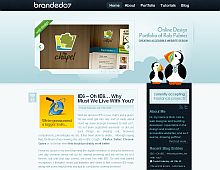 Rate It:
Color Scheme
Hovered color:
Selected color:
Comments (5)
Nice looking, but like most every other page I have seen this year.
#1:

Gunnar Bruun

on 09/16 at 11:29 AM
reminds me of grooveshark a little. like gunnar said looks nice but not particularly original and too many font styles/sizes for my liking. nice code though.
#2:

Gregory M

on 09/16 at 12:22 PM
Really like this site, luv the penguins and nice use of colours. Well done.
#3:

James Taylor

on 09/16 at 06:04 PM
Although this look is getting very common, I have to say, the visuals are beautiful! Colours, graphics, typography...very pleasing to look at! NICE A+
#4:

aguy

on 09/17 at 12:58 AM
(Total Pages: 1)
Commenting is not available in this weblog entry.