Blue Bonnet Cafe
Date: 02/25/2009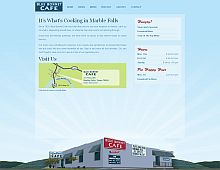 Rate It:
Color Scheme
Hovered color:
Selected color:
Comments (7)
too blue.
light blue text on lighter blue background sounds sexy - if you're John Bobbit, not so much if you're eyes are straining to read the (@*!

stupid IE6 notice: If you're smart enough to detect IE6, install the appropriate hacks as well and shut the f*ck up!

2/5
#1:

Mark

on 02/25 at 07:33 PM
ha ha...that's funny... telling me I have ie6, but not actually designing to accommodate it...If I have ie6, why would I go through all of the update process to see your site? If I want to update ie6 I will, otherwise, build a site I can view in ie6!
#2:

aguy

on 02/25 at 09:13 PM
I do similar IE6 notices. People need to keep up with the times and quite using crappy browsers. Designing for IE6 enables slackers and is a waste of time imo.
#3:

steve

on 02/26 at 04:47 AM
Steve, you actually charge clients for your services? Its unbelievable, that a "web designer" could be so naive!..

how about this thought, as a "professional" web designer, you need to "keep up with the times" and realize that ( as much of a piece of crap it is ) ie6 is still used extensively, and to think lil' ol' you can change that, you're just kidding yourself! "Designing for IE6 enables slackers and is a waste of time imo." ??????? WOW! I hope my competitors have your attitude, because if they do, I'm going to be BUSY!!
#4:

aguy

on 02/26 at 04:55 AM
IE6 has about a 19% share of net usage. That's way too much for a bad browser, but since you have to be running XP or higher to get 7 or 8, that's all some people can get (people running win2k can't upgrade).

With as many workarounds available for IE6, it's inexcusable not to have decent downgrades.
#5:

Security

on 02/26 at 01:54 PM
Is this site biased? They can't accept my design for my site why? everyone else has showcased it
#6:
Zeal
on 02/27 at 07:16 AM
Awesome Article, Really very informative posting which provide lots of informative in all the regards.thanks for the wonderful posting.
(Total Pages: 1)
Commenting is not available in this weblog entry.