Bitbot Toys
Date: 05/20/2010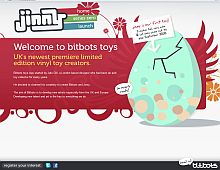 Rate It:
Color Scheme
Hovered color:
Selected color:
Comments (9)
i like the red bold design :D
#2:

Nick Sbrg

on 05/22 at 02:12 AM
Good use of the colors. The page loads fast and is very eye appealing.

Great job!

Brisbane Web Design
#3:

Robin L

on 05/22 at 07:12 PM
Nice one. Really well designed.
I love the color scheme! Red is my favorite color but this scheme is awesome
i like twiter icon its so good
I love the combination of the colors especially the color of the egg, sort of baby blue shade. Does the header appear bigger?Sam Jones
(Total Pages: 1)
Commenting is not available in this weblog entry.