Biddlebugs
Date: 11/15/2004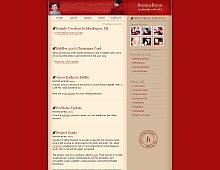 This design is so great, I just had to basically feature it twice (the other one listed here: Labradors). What can I say, fabulous colors, shading, layout, markup.
Rate It:
Color Scheme
Hovered color:
Selected color:
Comments (2)
Very nice indeed! I never thought red could look so good as a site's theme.
#1:

cssmedia

on 11/15 at 10:23 PM
UUHHGGGG! Another Mac designer using Lucida Grande! This font looks like crap on PC's!!!
#2:

One dude of millions on a PC !

on 06/22 at 03:41 AM
(Total Pages: 1)
Commenting is not available in this weblog entry.