Best Plots
Date: 11/08/2005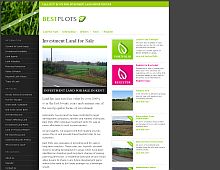 Very clean and stylish design. Great logo too. I wish the text on the rightmost column were a tad bit darker, however.
Rate It:
Color Scheme
Hovered color:
Selected color:
Comments (7)
This is a lovely site. Great colour scheme, and (considering how many options there are) unobtrusive navigation. Really nice.
#1:
David
on 11/09 at 04:43 PM
Very clean, simple and effective.

I do wish the layout was either liquid, or narrower, though; I can't see the full page on my 1024x768 desktop unless I maximize my browser window, which I don't like doing because I have other programs, like AIM, that I'll want to be able to see on my desktop at all times.

Other than that, great, clean design.
I am trying to create a site of for a school project. I wondered how you worked the navigation of your website. Did you create the first page using a template or frames or a table
Bridie
#3:

Bridie

on 11/27 at 01:31 PM
I like this design, very sleek and professional looking. Good work.
Hi,

Many thanks for the comments from everyone and thank you CSS Drive for listing our site - it's very much appreciated!

Bridie - the page was primarily designed in photoshop and then created in layers with CSS. Repeat items, such as navigation menus, were typically saved as library items.

Hope this helps!
#5:
Pete
on 11/29 at 09:56 AM
very nice colors. It looks awesome!
(Total Pages: 1)
Commenting is not available in this weblog entry.