Bathroom Warehouse
Date: 10/26/2006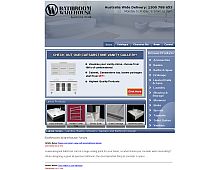 A clean and elegant design. The one thing that turned me off was the SEO aspect of it, including some questionable hidden text.
Rate It:
Color Scheme
Hovered color:
Selected color:
Comments (2)
Designed by Michael Coyle. Didnt recieve an email telling me this site was here though. 5.5 hey, pretty shit.
It looks good but might be a little too bright even for a bathroom store.
(Total Pages: 1)
Commenting is not available in this weblog entry.