Austin Town Hall
Date: 10/23/2008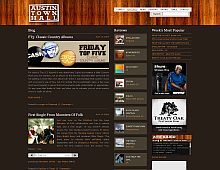 Rate It:
Color Scheme
Hovered color:
Selected color:
Comments (2)
its ok - i personally dont like dark sites but I guess it works.
#1:

jeff

on 10/25 at 06:53 AM
I love that flash streaming mp3 sampler! cool how it loads the mp3 file and colour scheme with FlashVars. Easy to customize! Ya mind if I grab it and use it?
#2:

aguy

on 10/25 at 10:13 AM
(Total Pages: 1)