Anthony Phillips
Date: 08/02/2005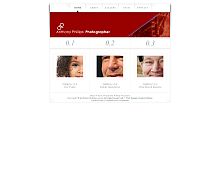 What a clean, beautiful design. The stylish header is the centerpiece here.
Rate It:
Color Scheme
Hovered color:
Selected color:
Comments (2)
This is definitely a very good website both design- and content wise. Love the layout and the tastefull effects. Simply the best Iíve seen in a long time
#2:
dofoto
on 08/12 at 01:16 AM
(Total Pages: 1)
Commenting is not available in this weblog entry.