Amorphonet
Date: 10/09/2005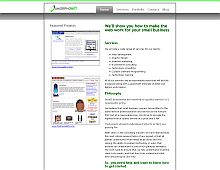 A rather unique box design, enough to warrant a feature.
Rate It:
Color Scheme
Hovered color:
Selected color:
Comments (1)
Thanks for featuring my site. I'm glad to know that you think there is a uniqueness about it. I was trying to come up with a clean design that is somewhat unique.

Thanks,
Jaime
(Total Pages: 1)
Commenting is not available in this weblog entry.