AlexxDesign
Date: 01/25/2006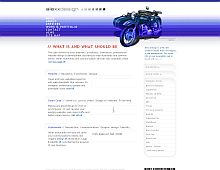 A rather interesting design thanks to some unorthodox pieces such as the CSS menu at the top.
Rate It:
Color Scheme
Hovered color:
Selected color:
Comments (3)
The site features a clean look, makes great use of CSS and respects web standards.
Great navigation, easy to spot usefull information.
Superb site! Tastefull and well organized. Easy to navigate, technicly well made. However I am most impressed with his design work so far.
#2:

Guri Krog

on 01/28 at 08:03 PM
very very nice work...very
#3:

dzozi

on 01/28 at 08:04 PM
(Total Pages: 1)
Commenting is not available in this weblog entry.