Advance Leaflet
Date: 02/20/2005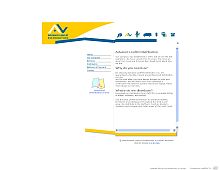 This handsome design is supported mainly by that nice outer frame surrounding the page. Rather interesting.
Rate It:
Color Scheme
Hovered color:
Selected color:
Comments (4)
The left column is broken in Firefox. However a good design.
#1:
Strict
on 02/21 at 09:14 AM
I'm running Firefox 1.0 and the left column doesn't appear to be busting out of place. If you are referring to the identity at the bottom left side, I believe that was intentional. It's part of the footer image.
#2:
Matt
on 02/22 at 03:29 PM
Yes Matt is correct. It is intentional to have the left hand side jagged. The site suppose to look like an open brochure.
I almost forgot to complement the design.
I like the color scheme and the structure is very smooth.
#4:
Matt
on 02/24 at 05:54 PM
(Total Pages: 1)
Commenting is not available in this weblog entry.