Abstracts Manager
Date: 11/07/2004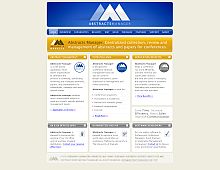 The equal-height rows deployed on the homepage probably limits its usability to very specific sites. Check out the sub pages for the more traditional two column layout, however. The glossy colors used by this site is my favorite aspect of it.
Rate It:
Color Scheme
Hovered color:
Selected color:
Comments (1)
I think it's an equal design, with an elegant colors combination. Congratulations for a very beuty site
#1:

lenin

on 08/11 at 02:28 PM
(Total Pages: 1)
Commenting is not available in this weblog entry.