9thwave
Date: 02/18/2006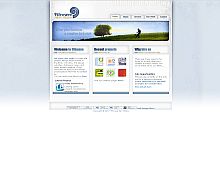 I just love the color scheme and fixed width layout when coupled here. The guy's portfolio speaks for itself as well.
Rate It:
Color Scheme
Hovered color:
Selected color:
Comments (4)
I think that the spinning bar on the top left is a tad bit too distracting, but besides that, I absolutely love the whole thing.
#1:

David

on 02/19 at 02:22 PM
I really like this website, I think the thing that most cetches my attention are the flash headers
#2:

Grey

on 10/23 at 01:39 AM
One of the best on CSSDrive.com. The attention to detail in making every site xhtml 1.0 strict is a nice pluse.. was expecting transitional. Very nice on the eyes.
#3:

Patrick

on 03/13 at 06:37 PM
(Total Pages: 1)
Commenting is not available in this weblog entry.