24/7 Support
Date: 06/23/2006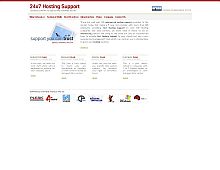 Rate It:
Color Scheme
Hovered color:
Selected color:
Comments (2)
Perfect example of the "Clean & Clear" category name!
#1:

Taki

on 06/24 at 12:13 PM
A little too clean & clear for my taste, it's all bloody white! And the name, let's not get started about that...
(Total Pages: 1)
Commenting is not available in this weblog entry.